Form 3L
Expand Your Capabilities With Large Format 3D Printing
Take control of large-scale part production, increase your throughput, and bring your biggest ideas to life with the Form 3L, a cost-effective large format 3D printer that doesn't compromise on the details.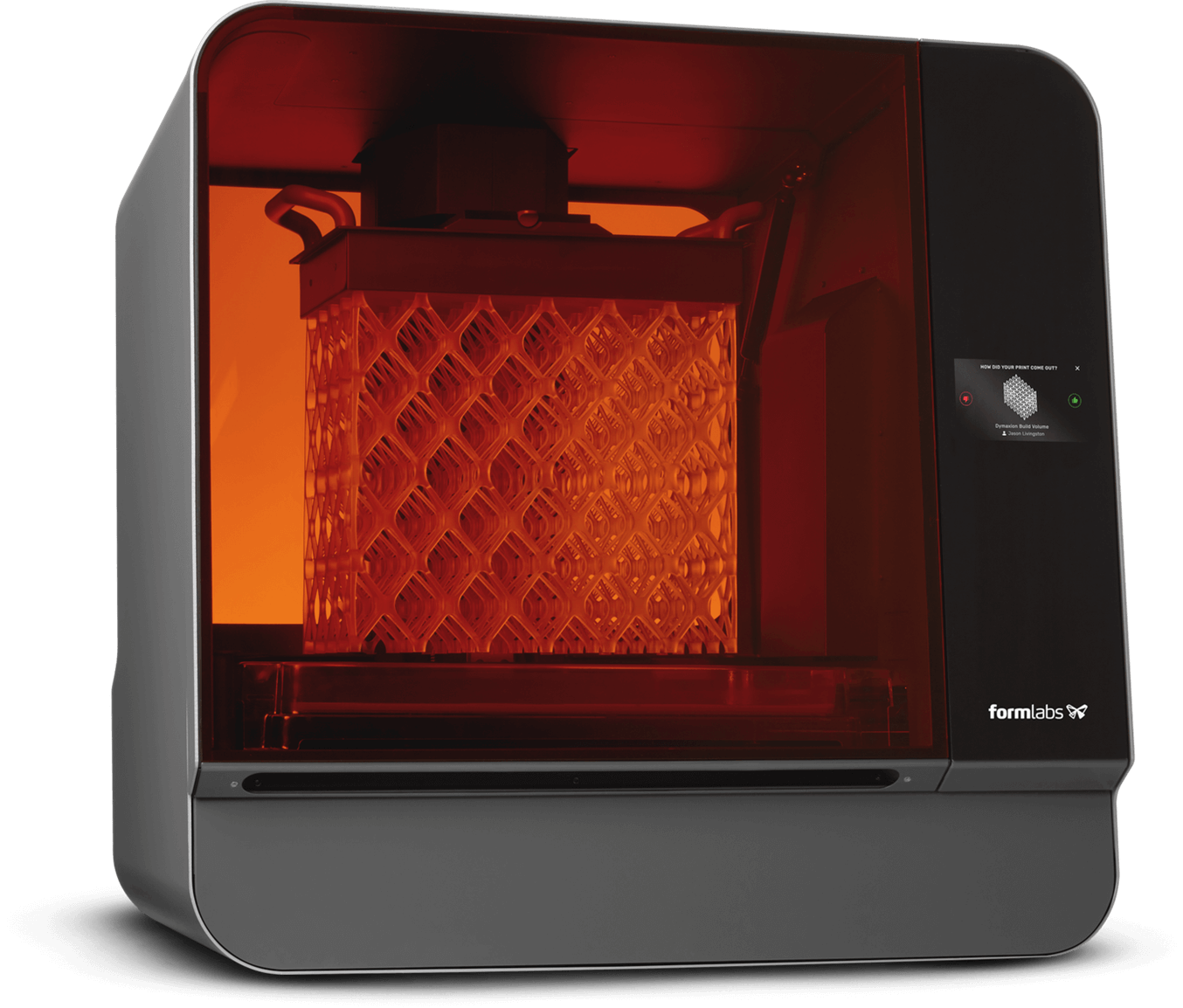 Perfectionism That Scales
The Form 3L is 5x larger than the Form 3, but with the same technology so you get all of the Form 3's reliability and consistency for much bigger prints. Two Light Processing Units (LPU) work simultaneously to produce large, dense parts fast.
25μm
XY Resolution
---
250mW
Laser Power
---
25 – 250μm
Layer Thickness
---
30 × 33.5 × 20 cm
Build Volume

Incredible part quality
Stop sacrificing on quality for large-format prints. The Form 3L provides the smooth surface finish and fine detail that stereolithography 3D printing is known for.
Smooth surface finish:
Models printed on the Form 3L resemble polished injection-molded for realistic looks-like prototyping and consumer-ready end-use part production.
Consistent precision:
A system of lasers and mirrors ensures uniform print quality, for an XY resolution of 25 microns across the entire build platform.
High translucency:
With precise layer registration and smooth surface finish, translucent materials print clearer than ever, right off the printer.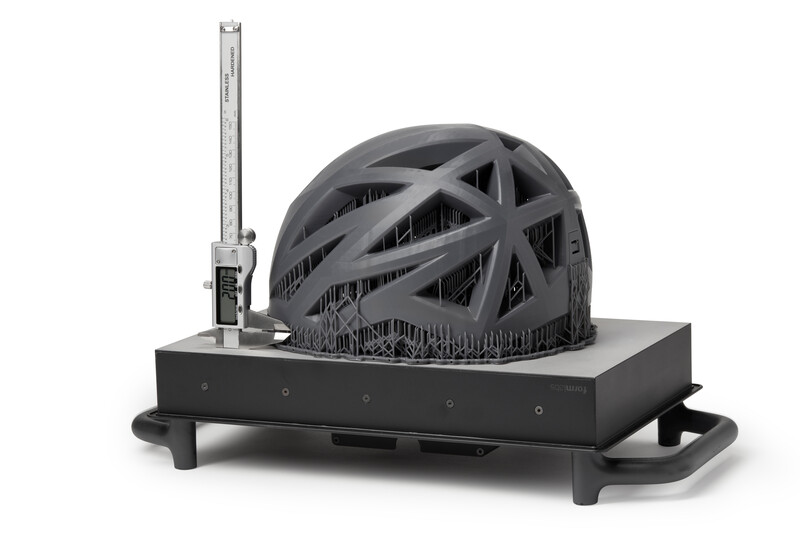 Low Force Stereolithography Technology
Pinpoint Precision
The custom-designed Light Processing Unit (LPU) inside the printer uses a compact system of lenses and mirrors to deliver accurate, repeatable prints.
Crisp, clean features:
The high-power-density laser is passed through a spatial filter to guarantee a clean laser spot.
Improved part clarity:
With LFS technology's improved layer registration and surface finish, translucent materials print clearer than ever, right off the printer.
Hassle-Free Materials Management
Choose from a wide range of advanced materials, developed specifically for Formlabs printers by in-house materials scientists. With simplified material switching and automatic resin dispensing, the Form 3L allows you to walk away and focus on other work once your print job starts.
3D Printing Software – PreForm
PreForm's automatic algorithms set up your print's layout, orientation, and supports, so anyone on your team can print successfully without specialized training.
Expert users can manually adjust a variety of parameters, such as support density and size, to fine tune results.
Design your model in standard CAD software, then import the STL or OBJ file into our print preparation software, PreForm. Get your model ready in minutes, upload to your printer, and let it build.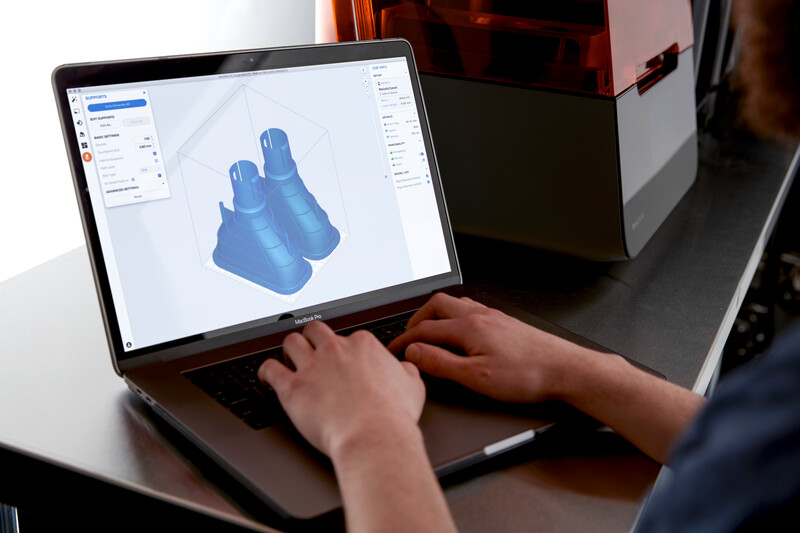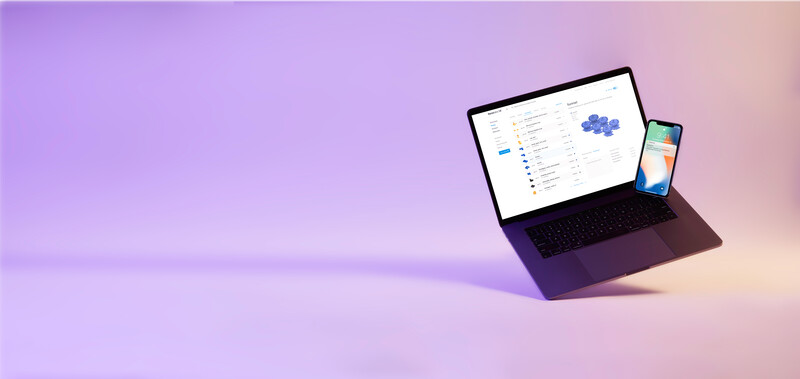 Follow your actions on Dashboard
Use your online Dashboard to manage printers, materials, and teams.
Manage your inventory of materials and resin tanks so you know when it's time to replace consumables.
Enable SMS and email notifications in Dashboard to receive notifications when prints are completed or your printer needs attention.
Prepare your printer before you leave, then start jobs from anywhere with Remote Print.
And much more!
Interested and want to know more?