Perfect starting material
Moderate stiffness, smooth surfaces, high details and accuracy make Standard resins great for:
Presentation-ready pieces
Base for painted prints
Rapid prototyping for checking geometry
Parts requiring translucency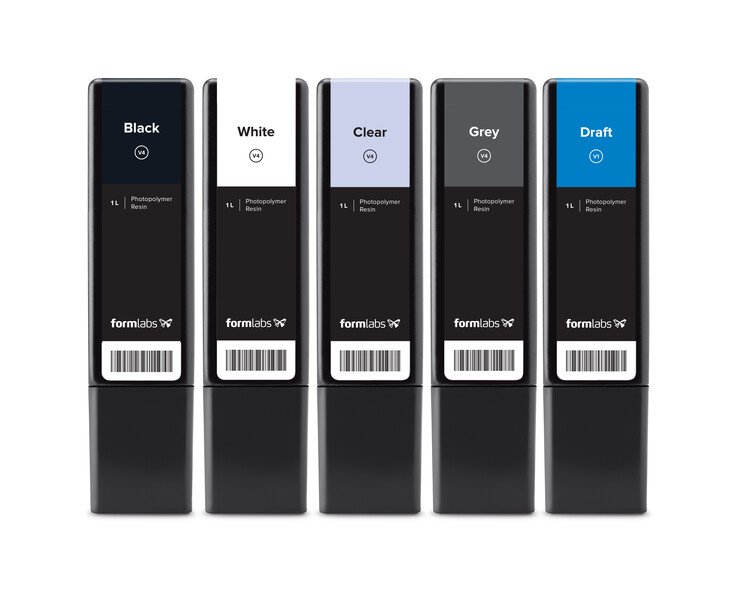 White Resin
White Resin captures smooth surfaces and details, making it great for presentation-ready pieces or as a base for painted prints.​
Grey Resin
Grey Resin is perfect for general purpose prototyping and model making, excellent for capturing small details.
Black Resin
Black Resin is formulated for models with very small features and intricate details. Great details Smooth, matte surface finish.
Clear Resin
Clear Resin printed on the Form 3 polishes to near optical transparency, making it ideal for working with light or showcasing internal features.
Draft Resin
Draft Resin is suitable for printing large, bulky parts quickly. With a 300 micron layer height, it has acceptable accuracy for prototyping needs while enabling faster design iterations.​
Formlabs Resin Tanks are consumables required for printing with any Formlabs 3D printer which wear over time depending of the material, part orientation and position, layer resolution and model size.
Each material should have it's own Resin Tank to avoid decrease in print quality and damage to the device.
Interested and want to know more?